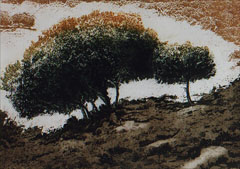 Neta Dor
Neta Dor has worked in a number of areas of art including painting, Sculpture, applied graphics, ceramics, jewelry and enamel work. In recent years she has specialized in artistic printing.

Review Neta Dor's resume short version or complete version.
Read reviews on Neta Dor's work.
Neta Dor: From Filigree to Flux / Dr. Micael Sgan Cohen (from an article in her recent catalogue)
Visit Neta Dor's online exhibition.
---
[Info] | [Reviews] | [Article | [Resume] | [Gallery]


[Send email to the artist]